His lips pursed and eyebrows raised, KL Rahul wore a look of subdued amazement. The tempered facial expressions were in line with his equanimous disposition, not giving away too much, but to the keen eye it was apparent that Rahul had surprised himself. For a batter whose range-hitting is dependent on pace utilization and improvisation rather than brute force he'd swatted Tim Southee's off-cutter over mid-wicket with power per se.
His reaction on the way to Shreyas Iyer for the mandatory glove punch replicated India's collective consciousness as a nation towards the goings on at Wankhede. Starting from the 2014 T20 World Cup semi-final to the World Test Championship 2023 final, India have stumbled at the rear end of ICC events on eight occasions, failing to win any since the Champions Trophy in 2013. A couple of these heartbreaks have come recently at the hands of New Zealand, their bowling attack to be precise. By imposing themselves on the Boults and Southees in a knockout, India left their fandom pleasantly surprised.
On match eve, head coach Rahul Dravid spoke about sticking to the template when the stakes are high. "I think we'll be inauthentic if we say that it's just another game. Yes, of course it's a semi-final but I think our processes and what we've done in the lead-up to each and every game is not going to change. We do recognise that it is an important game, it is a knockout game, we have to accept the fact that there is going to be a certain amount of pressure but I think the way we have responded to the pressure so far gives us a lot of belief and a lot of confidence."
India's approach didn't waver in the slightest. There was no let up in the tone-setting vibrance of Rohit Sharma, who assumed the role of an enforcer as soon as he set about institutionalizing role clarity into the dressing room. The intensity with which he discharges his duties has grown steadily over time, reaching its zenith when India actually needed his belligerence the most. 28 sixes have flown from his willow in the 2023 World Cup, making it the highest by a player in a single edition. The one that soared over cover thanks to a flat-batted drive upon advancing to Trent Boult qualifies to be a crown jewel.
Inswinging deliveries from left-arm pacers have consistently ailed Rohit so his neutralizing ploy these days is to fight fire with fire. He knew what was coming as Shaheen Afridi and Dilshan Madushanka rolled up to the popping crease in Ahmedabad and Mumbai respectively, sighting a boundary option in their tailing half-volleys first up instead of slipping into an understandably defensive mindset.
He was adamant to whip Boult as well, taking the ball from middle stump to eerily evade short mid-wicket. Rohit was far more comfortable with the radar shifting to off, piercing the ring as the left-armer obliged on the very next ball. Two fours in the opening over brought Boult around the wicket during his second, and it almost seemed as Rohit was waiting for the change in angle to further his rhythm-upsetting ambitions. He gave Boult the charge to hit a statement of a six, the qualitative impact of which showed in New Zealand's attempt at bouncing out the virtuoso puller at a venue with even bounce and short square boundaries.
"There have been some games where it could have been tricky for us, but the fact that he's been able to get us to those kinds of starts has literally cracked open the game. It's actually made it look easy for us and certainly made it easier for the guys who followed," noted Dravid in a presser last week.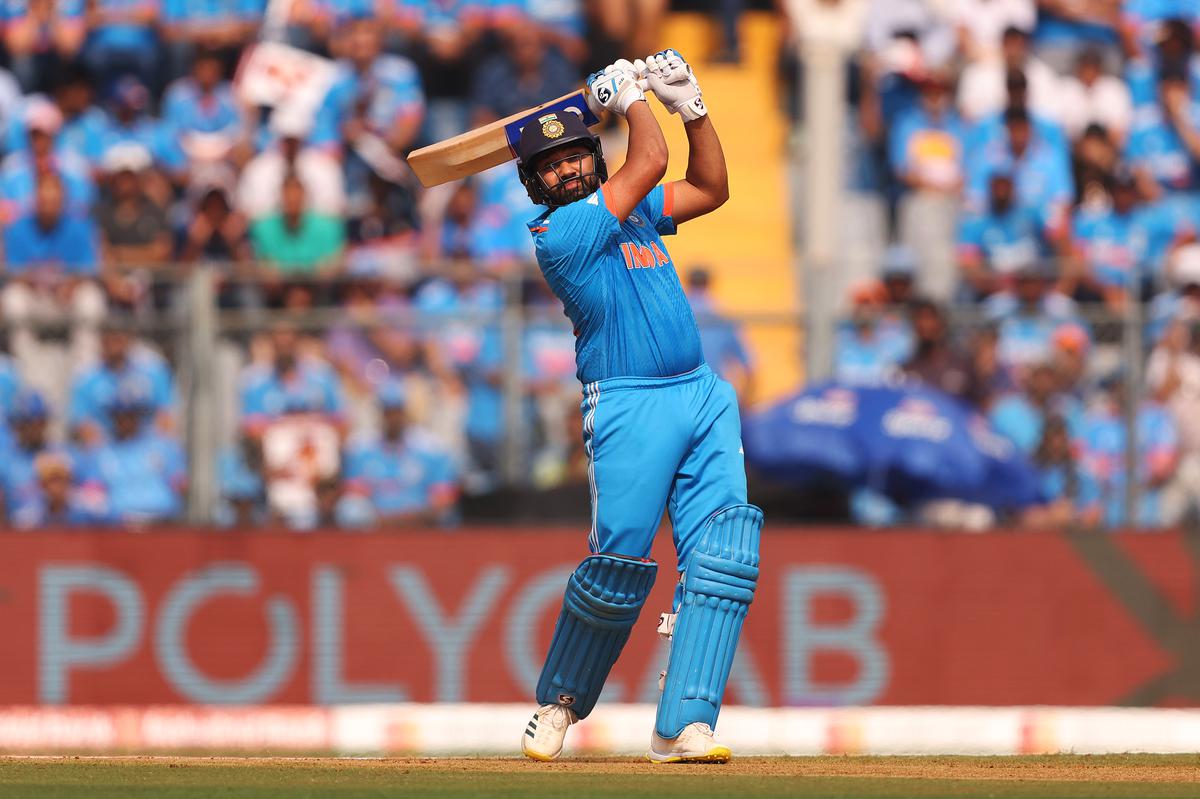 Southee took the pace off to inveigle Rohit into a false shot on 47 off 29 balls, a rare moment of respite for New Zealand that marked the onset of a prolonged phase wherein the hosts relayed the baton to perfection. Shubman Gill went from a run-a-ball 21 to attaining fifty in 41 to ease Virat Kohli into his record-breaking innings, a fairytale playing out in front of sporting royalty, including idol Sachin Tendulkar whose feat of most ODI centuries, rather incredibly, now stands bettered.
Iyer took only 67 balls for his second consecutive hundred, making it the quickest in World Cup knockouts surpassing Adam Gilchrist's 72-ball effort against Sri Lanka in the final of the 2007 edition. He bashed eight sixes – most by an Indian in a World Cup match – to facilitate the continuation of Kohli's modus operandi as a sheet anchor.
"Again, a big game today, I had to kind of play the role that I've played throughout the tournament so that the guys around me can go and express themselves," Kohli said after compiling his third ton in this World Cup.
Even though India had the cushion of runs behind their back, a banana peel lay on their road given batting conditions tend to improve significantly with the arrival of dew. New Zealand were thus in with a shout despite losing both openers to the new ball that hoops around corners under lights. With Daryl Mitchell trumpeting his love affair with the straight boundaries and Kane Williamson receiving a life on 52, India found themselves at the panic stations. The equation read 199 off 20 overs with 8 wickets in hand, well within reach by modern standards.
An undesirable state of hopelessness that India experienced in the face of Alex Hales and Jos Buttler's pyrotechnics in Adelaide or Babar Azam and Mohammad Rizwan's dovetailing in Dubai beckoned. Rohit Sharma turned to his strike bowler Jasprit Bumrah in the 28th over and he duly created the chance only for Mohammed Shami to spill a regulation catch. Much to India's relief, he redeemed himself with a double whammy and went on to claim 7/57, the finest bowling figures for India in ODI cricket, surpassing Stuart Binny's 6/4 against Bangladesh in Mirpur in 2014. The previous best for India in a World Cup contest was Ashish Nehra's 6/23 against England in Durban in 2003.
"We knew there'd be pressure on us. We were calm even though we were a bit sloppy on the field. These things are bound to happen, glad that we could get the job done.'' reflected Rohit, who wore emotions on his sleeve during the nerve-wracking defence. Much like the whole of the cricket-crazy nation deprived of global glory for a decade.