During India's tour of Bangladesh in late 2022, Shreyas Iyer admitted that the ubiquitous discourse over his short-ball weakness gnawed at him. ''It had gone into my head at one point,'' India's middle-order fulcrum conceded. ''It does play in a batsman's mind when people from outside talk about the problem and it's important as a player to turn a deaf ear to them. The rest will take care of itself. At the end of the day, ignorance is bliss."
Over the course of the next year, Iyer steeled himself to deal with the white noise. He ticked off the controllables, having exclusive sessions to fine-tune technique by going back and across rather than staying leg-side of the ball. Decision-making was revisited as to when to hook and roll his wrists over, but on a psychological level as a player he couldn't obviously buy into the view that bouncers constitute a hazard, even if statistical evidence suggested so.
Till the first week of November, 34 out of 191 fours in Iyer's ODI career – almost 20% – had come off short balls. On the other hand, he averages 21.40 against that length, which means he's miscuing a fair share of pulls. Although results have been a mixed bag despite ameliorating efforts, Iyer has managed to convince himself that no such chink exists in his armour. He told a reporter as much following a match-winning 82 against Sri Lanka in Mumbai, another emphatic victory that sealed India's passage to the 2023 World Cup semi-final.
"When you say it's a problem for me, what do you mean? Have you seen how many pull shots I've scored, specially which has gone for four?'' Iyer snapped back at the addressal of the elephant in the room. Annoyance, although tempered thanks to media training, was rife in his rejoinder, kneaded in with a decent dollop of realism.
"You know if you try to hit a ball, you're bound to get out anyway whether it's a short ball or overpitched. If I get bowled two or three times, you all would say he can't play an inswinging ball, he can't play if the ball is seaming. You guys have created that mahol [feeling] outside that he can't play a short ball, and I feel that people are picking that up every now and then and it plays on your mind regularly and you keep working on that.
"Coming from Mumbai, especially from Wankhede, where the bounce is pretty much even and you know it bounces way more than any other pitches; I've played a majority of my games here. So I know how to tackle it. It's just that when I go to hit some shots you are bound to get out and sometimes it may work sometimes it may not. Majority of the time it hasn't worked for me, maybe that's the reason you think it's a problem for me, but in my mind I know there's no problem."
Iyer's retort didn't go down well with cricket aficionados. Netizens claimed he was living in denial, a type of defense mechanism that involves ignoring the cold hard facts of a situation to dodge anxiety. He was labelled egoistic, but what critics tend to overlook is that self-doubt is the mightiest challenge any athlete faces and a strong ego serves as an excellent counterbalancing force. As much as Iyer's statement was about telling others that he wasn't bothered by the bouncer, it was also about reaffirming to himself that his game is in decent order, if not perfect.
It is patent to the vast majority of athletes that self-confidence enhances performance. Positive pep-talk reinforces the belief that you possess the skill and smarts that are the building blocks of success. Adopting a can-do attitude is imperative for cricketers given the sheer amount of hard work required to excel, the multitude of obstacles that lie in their path, the acuity of the traps that opponents devise at the big stage and the burden of expectations. Only by cultivating a relentlessly bullheaded approach towards their goal are sporting aspirants able to jump through hoops threatening to impede their progress.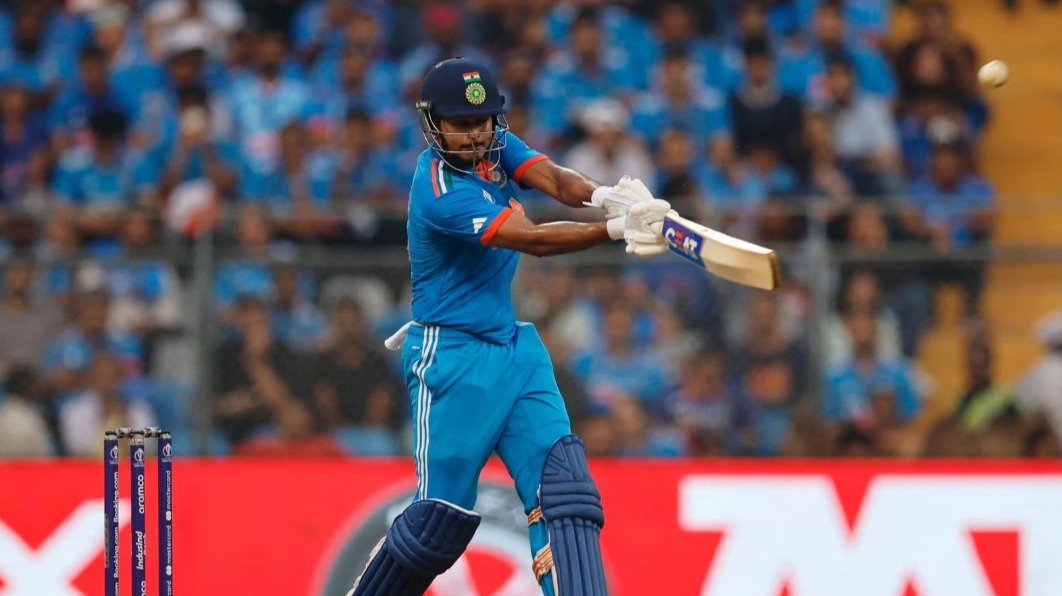 To varying degrees, all elite athletes develop ego strength to complement their supreme skill sets. The aggressively jubilant celebrations that transpire when a cricketer redeems themselves after dropping a catch, leaking boundaries or being sledged are a result of an ego that was massaged upon taking a blow. Generally looked in a bad light, ego doesn't have to manifest itself into arrogance or toxic behaviour but it is a key cog in the endeavour to be the best. Ego is inextricably linked to proven performance, and fuelled by the awards, paycheques and celebrity treatment.
Elite athletes, though among the most proficient at their vocation, are still not immune to the psychological pressure that can afflict the brain and body. They are humans, after all. Butterflies hover in their stomach as well. What sets these overachievers apart from mere mortals is the fact that they are able to manage the stress response, and maintain mastery over their physical, emotional, and cognitive function even in a state of duress. Such an equilibrium is, of course, found from experience involving trial and error.
Sport is synonymous with pressure, and athletes who harbour dreams of greater glory know the road isn't paved with roses. It never was, it never will be. Hence they don't mind a skirmish, becoming used to confrontation over time, not only against adversaries but also their own fears and insecurities. When told they aren't good enough, these hustlers fight instead of flight, blocking out the negative kerfuffle to keep their delicate bubble from bursting.
Denial is unhealthy if it prevents you from acting on an issue, but it's an effective tool if you can walk the tightrope between rectifying the flaw and not giving it the power to derange the whole ecosystem. As Iyer's case proves, with his strike-rate jumping to 135.44 against the short ball. Tallying post the Sri Lanka game In this World Cup, he has received 107 balls from the quicks and 51 of them have been short or short of a good length. He's scored an impressive 60 runs off those 51 balls, with seven fours and a six, and lost his wicket twice.
Grant Downie, the Head of Performance at Manchester City FC Academy, says, "You want players to have an ego. To go in front of fifty or sixty thousand people and express yourself, you need to have a strong sense of self-belief. Without that, no champion would ever be able to take that long range shot or execute a skilful maneuver.''
Iyer has always been assured of himself, channelizing the spunk in his vital 75 that rescued Mumbai from 57/6 in just his third Ranji Trophy match as a 20-year-old and the mission to make the number four spot his own in the Indian team. No wonder he is protective of his headspace in the eye of the short-ball storm.
Downie adds, ''Self-doubt is the most challenging opponent any athlete faces and nothing counters this foe with more success than a strong ego.''